The Essence of Creativity
lies in variety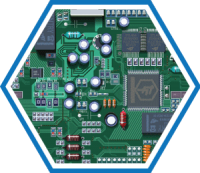 Embedded Department has been a leading single stop provider of hardware and software solutions for the embedded systems market for more than a decade. Embedded Systems comprises of a group of highly qualified technocrats with strong technical skills.
The scope of capabilities spread over various stages including design, development, verification, validation, fabrication and prototyping. The group's technical expertise in the building block technologies of the embedded world such as system design, hardware design & development, firmware development, front end PC based software, RTOS and real time applications are key differentiators which can address any product development phase for its valued clients.
Intelligence, compactness, reliability and cost effectiveness are the keys of modern embedded technology. Objective is to reduce the time frame of overall product development life cycle to meet the stringent timelines and market requirements.
Embedded Systems is omnipresent today, in every domain. Our teams have experience in working on embedded hardware and software projects for clients across several industry domains such as telecom, consumer electronics, automotive, semiconductor, power and energy, industrial automation and office automation.
PRDC® offers a range of innovative solutions, which enables our customers to achieve excellence and by embedding new features and intelligence in their products.
Over the past decade, PRDC® has established a reputation as a world-class hardware design and embedded software development partner for industry leaders – helping them to create innovative products and solutions and dramatically improving their cost while reducing the time-to-market.
PRDC® has expertise in entire product development life cycle – from idea or concept to market – covering both hardware design and firmware development. From the initial needs analysis to de-bugging to final system testing, verification and support – PRDC® works closely with customers to accomplish the desired goals and exceed performance expectations. Our delivery model is such that the client gets to interact with our project development team. This makes the development process transparent and cost-effective.
Our design and development center is well-equipped with all the latest industry-standard equipment and development applications that make the process faster. Our solutions serve the need of OEMs, system integrator, high-tech device manufacturers, and independent vendors. We help enterprises migrate application to newer standards. For high-tech industries we offer migration of products from older technologies to latest, cost effective technologies and also ensure smooth integration.

EXPERTISE
[INSERT_ELEMENTOR id="442″]
PRODUCT DEVELOPMENT SERVICES
[INSERT_ELEMENTOR id="435″]
HARDWARE DESIGN AND SERVICES
[INSERT_ELEMENTOR id="446″]
SOFTWARE / MIDDLEWARE SERVICES
[INSERT_ELEMENTOR id="451″]
TECHNOLOGIES AND PLATFORM EXPERTISE
[INSERT_ELEMENTOR id="457″]
SERVICES AVAILED BY CUSTOMERS
We have worked with many industrial clients like Hero Honda, Honda Motors, Ashok Leyland, Maruti Suzuki, New Holland Tractors, Royal Enfield, Mahindra & Mahindra, Tata Motors, Forbes Gokak, MICO, Bosch, Tata B P Solar, The Aluminium Industries (ALIND) and Prok Devices for various industrial engineering activities, automation and product development.